Introduction:
Eczema on lips can affect anyone at any age suddenly. It might not appear as dangerous but this skin disease can lead a patient to face painful condition severely.
This is one of well-known skin inflammation that can attack any people at any age. When it happens, a decent amount of affected area is on the vermillion border.
It is very common in the winter months as there is dry weather in everywhere. It may end up resulting in itchy rashes, worst blisters on the lips. Thankfully, there are some worthy treatments for this skin disease. In this article, I am going to share the symptoms, causes affect and possible solution to this problem eczema on lips.
See Also: Eczema On Eyelids : Causes, Symptoms & Treatments.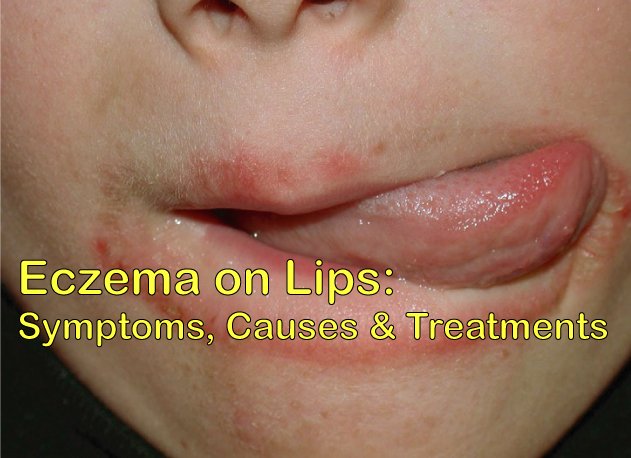 Symptoms of eczema on lips
Different types of symptoms may have been seen for this skin disorder. Some noticeable eczema you will discover around your lips. This is likely to be happening in general. Below I am going to include a list of possible symptoms of eczema around lips.
Painful rashes you will find around your lips.
Your skin may have to struggle with excessive dryness.
The skin may split due to have eczema.
Constant itchiness may disturb you badly.
There is a great possibility of having thicker skin and great inflammation.
Affected area might turn in to red.
Causes of lip eczema
A number of reasons are there for this skin inflammation eczema on lips. If you have natural dry skin, chances are more to cause this irritable skin disease. There are internal, external and environmental factors to trigger it badly.
I have decided to let you know the causes because it will help you cure the problem. The best way to combat with it is to know the reasons for what it happens. Let's know about it in details of eczema on lips.
If you own natural dry skin, your skin is susceptible enough for eczema. Moreover, atopic dermatitis can lead you to face it. Internal factors can be managed to cure in different ways.
The best way is to keep moisturizing your skin as much as possible. In most cases, you can consult with your physician for more help. Sometimes, Genetic factors may affect one to have natural dry skin.
There are a few external causes for what it can affect you. To improve the condition of your skin health, it's important for you to know.
People who constantly use lip balms, lipsticks may be able to suffer from this skin irritation most. These products are being formulated with chemical ingredients. It may affect the lips severely. Again, allergies also play a vital; role behind this problem.
If your skin is sensitive enough to allergic problems, you must be careful about having foods and using products. There are many foods and products are available which are lip eczema triggers. As allergic foods and skin products may affect your delicate skin badly, you need to be very observant for it.
Sometimes, this is our bad habit to lick our lips for no reason. This constant habit can lead you to have dry lips and cause eczema.
Winter season is responsible to increase low humidity. Cold temperature contributes to dry up your skin rapidly. These environmental issues can lead an individual to face eczema.
Therefore, some other external objects such as cosmetics containing allergic substances are also responsible for increasing this disease.
The ultimate treatment options
As lips are very sensitive part of your face, it's obviously a depressing experience for the eczema sufferers. Mostly, people judge you by your face at a very first glance. That's why it's also not less than a sensitive issue at all.
Thankfully, there are plenty of commercial skin products available in the market to remove it. But in my opinion, you should take home remedies as a useful solution to that.
In most cases, products made in commercial purpose might fail to provide you required relief. Let's have some comfortable discussion about natural home-made treatments to fight against eczema.
1. Sugar:
If you want to get back the normal softness of your lip, exfoliation is most useful way to do that. For doing so, you must take a tablespoon sugar and mix it with honey. Then make a paste of it and apply it on your dry and scaly lips.
After some minutes, rub your lips over the paste gently. Soon, you will discover how beautifully the dead cells of lips are loosening their position slowly.
2. Rose petals:
This natural ingredient will work better to aid your cracked lips. Again, it will keep improving the moisture level of the skin. For the instance, you must soak the petals with milk and make it a mash. Apply this on the affected lip area. If you use the paste on regular basis, soon you will get better result.
3. Aloe Vera gel:
Aloe Vera has the most healing power of skin disease in its ingredients. To mitigate the painful symptoms, you must use its gel every day. Of course, it will provide you a good relief.
4. Petroleum Jelly:
Applying the petroleum jelly is an efficient solution for lip eczema problem. Each day, you can use a few amount of jelly on your lips and get it moisturized.
5. Other treatments:
There are some other recommended medicines such as eczema lip balm, steroids, Antihistamines etc. Prescribed by specialized doctors can be used to remove the symptoms. Again, some antibiotics can also be applied for fighting against microorganism. Make sure you are using them consulting with your physician.
Conclusion:
Finally, you have gained a vast of knowledge about eczema on lips. Besides, these treatments, you should be strict in using your favorite skin products. Before start using them, make there are no harmful chemical in them.
Additionally, you must stay away from sun heat for longer period of time. Carefully clean your face with natural products that is not abusive for your skin or lips.
Proper skin care and careful activities can save you suffering from eczema. Take care of your skin.