Introduction:
Have you any idea about scabies? It is a contagious skin condition that produces acute rashes. It is caused by a mite infestation. Thankfully, there is a possible solution to this problem too. Neem oil for scabies is truly a great relief.
It attacks the parasite's reproduction and plays a positive role to sooth the skin from itch or any types of severe irritation. Scabies is really very disappointing skin disease.
Neem oil, a popular home remedies for scabies, can be a great treatment for your delicate skin condition. The best thing is it is natural oil and won't cause any side effects on the skin issues. This neem oil will do help you on how to get rid of scabies without going to the doctor. In this article, I am going to have an in-detail discussion on that.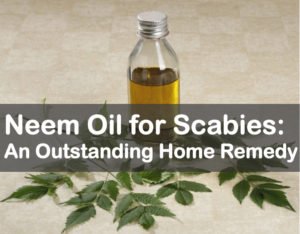 How neem oil can help in preventing Scabies
If you are going here and there to find out the best scabies home remedy, probably the query is going to end now. Neem oil is a remarkable and popular home remedy for severing skin problems.
Neem oil is made by grinding the seeds of the neem systematically. It is especially a tree and considered as a great part of the medicinal plant for an extended period of time.
Below we will know how it helps us in skin disease
If you extract neem oil, you will find chloroform that is truly effective against scabies.
There are 4-tetrahydrofuran diester and octadecanoic acid-3 in the neem oil. These two ingredients are helpful in degrading the metabolism system of Sarcoptes scabies.
How to apply Neem oil in having effective scabies treatment
You can apply neem oil for scabies treatment using a variation as it is skin protective element. Below I made a list of how you can use neem oil mixing it with other compounds.
No matter if it is minor or major infestation; you can always apply these techniques to prevent skin issues.
1. Using neem oil directly:
First of all, you need to clean the affected area with pure water. Then take a soft and clean cloth and dab the oil on it. Next, you can directly apply it to the area where you feel itchy or rashes.
Then wait for an hour and apply like this at least twice in a day. As long as the infestation is not going completely, use this oil following a regular routine.
2. Take Neem oil bath:
Neem oil bath is another useful application to get rid of scabies very soon. For doing so, you will require 4 tablespoons of neem oil and 2 tablespoons of liquid soap
Firstly, mix the neem oil and liquid soap together and blend it well.
Then add this paste in a lukewarm bath. The best way to get the highest result is to mix it in your bathtub.
Let it soak for 20 to 25 minutes. That's how any infestation won't happen there.
After taking neem oil bath, using a moisturizer will be best to get a good
Use it on a regular basis till the infection is gone.
3. Using Neem oil soap:
To initiate it, you must need 2teaspoons of neem oil, 450g of melt soap, and 2 drops of lavender oil.
At first, take separate bowls and let the soap and neem oil melt.
Then mix them with each other well. If you mix some drops of essential oil, it would be better. Then mix some food color in this mixture and blend it.
Meanwhile, take a plastic container and pour the mixture into the container. Wait for an hour because it should be hardened. Once it is done, you can make your desired shape with it.
The key reason to make it is to apply this neem oil soap on the affected area of the body. Use it and hopefully you will get some good result.
4. Neem oil and turmeric:
From a research, it is found on a study that neem and turmeric mixture can heal the severe itch of scabies. The study was conducted on about 814 peoples.
The most delightful part of this research is its result. About 97% infestation cases were healed with the neem oil and turmeric paste. That's why it is much beneficial for skin disease.
The ingredients you will need are 2 tablespoons of neem oil, a teaspoon of coconut oil and lemon juice and turmeric powder, 5-6 drops of essential oil.
Take a bowl and add all the components I mentioned here and mix them well.
Then apply the paste where it is causing you severe pain or where you are facing problems.
After you finished applying, wait for 20-25 minutes and then wash it with clean water properly.
5. Neem oil body mask with honey:
To prepare this mixture, you need to take 3 tablespoons of organic honey and neem oil. Then make a paste of them and apply it to the whole affected area.
Then leave it like this for around 30 minutes. Next, you can wash it off. Regular application of the neem oil for scabies will provide the best result in 2/3 weeks.
Some additional tips to maintain
While you are applying neem oil for scabies, you must remember some facts.
When you are using neem oil mixture, gently clean your affected area. Never be rude on it.
Eat a balanced diet regularly with vegetables and fruits.
Drink at least 8 glasses of water regularly. To keep your skin well, you need to keep your body hydrated.
You should exercise on regular basis to keep the blood circulation on a general
Conclusion:
Neem oil for scabies is undoubtedly the best natural healing product. Again it has no side effects on skin too. Moreover, you can mix other natural products like organic honey, turmeric etc. with it to apply to the painful area.
It contains anti-bacterial properties, natural anti-inflammatory ingredients that will benefit a lot to provide a better result.
That means, keep fruits and vegetables in your food chart. Hopefully, this well-organized in-depth article will be helpful to you.
See Also: Coconut Oil For Psoriasis: Does It Really Work?.