Aloe vera for eczema has long been a popular natural remedy. There are lots of reasons behind it. Here, we will discuss everything related to aloe vera and eczema.
What is aloe vera
Aloe vera is tropical cactus-like a succulent plant in which leaves are fleshy leaves are filled with gel, a clear, dense liquid. This is such a plant, vigorously used in beauty industry from the ancient era like Egyptian and Alexander times. The significant specialty of this plant is it is a natural cooling agent. It not only heals digestive disturbance but also aids different skin conditions including eczema. It also works against psoriasis, skin sunburn, rashes etc. Aloe vera has antibacterial and antifungal properties as well. It fastens healing of cuts, bruises and wounds of skin.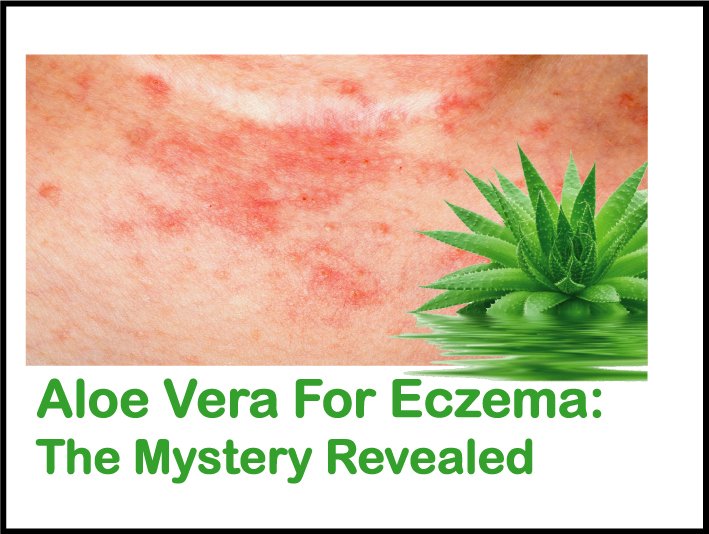 What is Eczema
The word "eczema" is derived from Greek word meaning "to boil over". When skin becomes red, inflamed, itchy, weeping and blistering is denoted as eczema. Eczema symptoms may vary from one child to another child. The condition of eczema may be mild, moderate or severe. In the severe case, intense itching is seen. Sometimes this high itching may cause bleeding also.
The most common type of eczema is atopic dermatitis. Others eczema is contact dermatitis, dyshidrotic eczema, nummular eczema, seborrheic dermatitis and stasis dermatitis. About 30 million Americans are suffered from it. The main reason of eczema is a weak immune system. Other causes of eczema are sudden temperature change, stress, poor intake of nutrition. Eczema can be seen at any area of body such as cheeks, chin, chest, neck, inner elbow, behind knees and eczema on eyelid or eczema on lips. It is most common among babies and children. Eczema goes away as child grows older, however, in some cases, it also is seen in adulthood also.
There are many treatments available for eczema such as over-the-counter (OTC) remedies, Prescription medication, phototherapy and natural treatments. Among natural treatment aloe vera for eczema is a very good option because it retains moisture and can fight against bacterial infections.
Does it really work aloe vera for eczema?
It has been found the clinical evidence that aloe vera can be effective in treating eczema and symptoms of eczema such as dry, broken, irritated skin. Aloe vera is consist of 75 nutrients including vitamins, minerals, fatty acids. It's moisture retaining capacity and antibacterial activity fights against eczema.
How it works aloe vera for eczema?
Aloe vera as a moisturizer: Aloe vera is an effective moisturizer as it contains 99% water. It can raise and retain water content in the upper layer of skin called epidermis. The epidermis is such a layer affected mostly by eczema. High moisture prevents eczema symptoms such as itching, rubbing, redness, pain, rough and cracked skin etc.
Aloe vera as anti-infective: Aloe vera has antibacterial action. It fights fruitfully against different bacteria and fungus. Examples: Streptococcus, Candida albicans. This infectious agent brings repercussion on the immune system. It mostly affects infants as their immune system is yet to develop. Such weak immune system and microorganism can aggravate life of eczema patients. This is why, aloe vera is necessary.
Aloe vera as an anti-inflammatory agent: Aloe vera contains calming effect on its ingredients. Hence, it has ability to reduce inflammation from skin and never-ending itching as well. However, to get an immediate soothing effect you must have to try aloe vera.
Aloe vera helps hydrocortisone: Hydrocortisone is a steroid drug used mostly topical surface on the skin. It heals eczema after application in right dosage regimen advised by the doctor. However, conjugation with aloe vera hydrocortisone shows better efficacy as aloe vera increases absorption of hydrocortisone.
Aloe vera hormone activity: Aloe vera contains two types of hormone called Auxin, Gibberellins. These two hormone helps by showing anti-inflammatory works and by healing eczema rapidly. It also slows the growth of staph bacteria, as a result, skin remains free from an attack of eczema.
How to use aloe vera for eczema – 10 DIY methods
Most of the people suffering from eczema and seeking natural remedies by aloe vera don't know how to apply aloe vera for eczema. There are many methods of application described below. Choose your convenient and perfect one to use every day.
1. Coconut oil combination:
Coconut oil has many skin benefits such as it works against dark circles, wrinkles etc.
Take ½ cup of coconut oil and ⅓ aloe vera gel. Add 2-3 drops of essential oils in this mixture.
Mix properly with a hand or electric whisker.
Mix it for 5-10 minutes.
Then transfer the mixture to a container and keep in refrigerator.
Pick up some amount of paste and use on eczema area till absorption.
Make the new mixture every after 21 days.
2. Plain Aloe vera:
Pick up some aloe vera gel from its leaf.
Apply this raw gel on the affected area.
Leave it for twenty minutes.
Wash with water.
Do it thrice daily.
3. Juice and aloe vera:
Take a glass of fruit or vegetable juice.
Mix two tablespoons gel collected from aloe vera and mix it well.
Consume it every day.
Alternately water if juice unavailable.
4. Olive oil:
This oil enters deep of the skin and plays role against pruritus and pain.
Blend few drops of oil with 2 tablespoons of aloe gel.
After mixing thoroughly apply on eczema skin.
Apply two to three times a day for the good result.
5. Aloe vera with many other oils:
Take 4 oz of gel of aloe vera leaf. Add 4 drops of tea tree oil, 1 tablespoon of apple cider vinegar, 4 drops of carrot seed oil and 2 drops of geranium oil.
Blend all ingredients thoroughly.
Store in an special vessel.
Use in affected areas after shaking well.
6. Mix with essential oil:
Take one cup of aloe vera gel. Add orange oil+coconut oil+jojoba oil+sea salt+soy milk+tea tree oil+Olive oil+cucumber juice+shea butter.
Mix all ingredients in a vessel and keep them for 5 hours.
Then start applying the mixture in eczema areas.
Keep the mixture in the area until it absorbs.
Do it again one time or twice in 7 days.
7. Aloe vera with shea and cocoa butter:
In this procedure, you have to mix 3 gram aloe vera and 2 gram vitamin E oil with 30 ml unscented butter base, 5 gm cocoa butter and 15 shea butter.
Mix all materials well and preserve in an airtight container
Apply on the skin where needed.
Do it every day.
8. Vitamin E oil:
Vitamin is such an ingredient acts as an anti-inflammatory agent and aid eczema.
Mix equal amount of mentioned oil and aloe vera gel.
Blend it properly.
Apply on eczema area for a couple of minutes and wash with water.
9. Aloe vera with turmeric powder:
Mix a tablespoon of aloe vera with a small amount of turmeric powder.
Mix well and leave on the eczema area carefully.
Rinse with water and repeat every day.
10. Aloe vera with Calendula:
Calendula herbs are known for its anti-inflammatory function. and it is needed for eczema condition.
Mix equal amount of calendula gel with aloe gel.
Add the paste to the affected areas.
Keep it up to the absorption.
Rinse with water.
Precautions using aloe vera for eczema
Try to consume excess aloe vera because it may cause abdominal distress, such as cramp, loose motion.
If you are sensitive to lily plant family than you better avoid aloe vera.
Aloe has small shelf life, companies use preservatives to keep long time in the market. So, be cautious about it.
There are two types of liquid. Avoid green liquid gel, accept white liquid.
Be sure about your eczema, whether it is present or not. Patch test will be helpful to understand it.
Avoid commercial aloe vera product which contains paraben because it is toxin in nature.
Aloe Vera Commercial Preparations
There are many forms of aloe vera found in the market. These are as follows:
Aloe vera soap: Aloe vera soap is very effective for eczema because of aloe itself a natural item. Instead of using other soap with harsh chemical, aloe vera soap is the better option. This natural body washing soap never exacerbates eczema condition.
Aloe vera gel: Aloe vera gel is easy to use as it can be applied anywhere of body. Eczema would alleviate because it removes irritation of the skin.
Aloe vera propolis: For unabated eczema, aloe vera propolis also plays a great role. Propolis is a waxy material helps to cure eczema when combined with aloe vera.
Aloe vera shampoo: If you are suffering from eczema on scalp or around hairline then aloe vera shampoo is best for you. It is easy to spread shampoo in your hairy scalp. During treatment try not to use hair sprays because it has side effects to damage hair.
Aloe vera for eczema in babies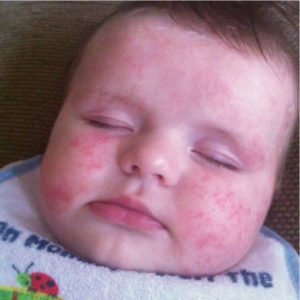 The best part of aloe vera is it is safe for children without leaving any side effect. It cures eczema caused by babies weak immune system. But it is advised that, rather than using aloe vera try to uplift the immunity.
Babies are suffered from itching by eczema and they are not ready to handle it like adults. This is why, aloe vera is needed as it soothes baby's delicate soft skin.
Rub aloe vera gel on baby's body gently. Let the aloe vera gel to dry before changing the diaper.
Moreover, aloe vera can diminish nappy rashes of the baby.
Eczema around eyes natural remedy with aloe vera
Does aloe vera for eczema works around eyes? Yes, it works. Eczema around eyes causes uncomfortable,  embarrassing situation. When it is all about eye problem, negligence should not be allowed. Aloe helps in eye eczema both internally and externally. You can apply it on the skin by following the DIY method or you can consume aloe vera gel also. As it is a moisturizing agent, it keeps eye area wet and protects eye skin from eczema and eczema symptoms pain, irritation, itching etc.
Can aloe vera make eczema worse?
Yes, aloe vera can make eczema worse if you overuse it. Moreover, if you use commercial aloe vera mixed with paraben or preservative your eczema might be worse.
On the other hand, if you are allergic to aloe vera you should have to opt it to avoid worse eczema.
Aloe vera for eczema scars
Aloe vera lighten eczema scar if you apply it overnight to the affected area. It sloughed off dead skin cells and regenerate new skin cells. Moreover, its moisturizing property helps to avoid drying and crusting of skin which are consequences of eczema. On the other hand, aloe vera has an anti-inflammatory and antimicrobial activity which will help to eradicate skin irritation and alleviate eczema scars.