Introduction:
''Rosacea!! Are you well-known with this word? Probably, you are wondering about the fact. "Well, this is one kind of skin disease that can primarily attack the facial skin of a person. Soon, it can lead the skin to redness and worse the situation drastically. Gradually, this annoying disease may attack on nose, forehead or chin. If you are experiencing this unwanted inflammatory state of your skin, then you must know how to get rid of rosacea.
Despite there is no permanent solution left to cure it. But there are some treatments and advises, following those one can effectively help on how to get rid of rosacea and reduce their skin irritation. To let you know about that, I am going to discuss about it in-details with you. Just stay with us to the last point.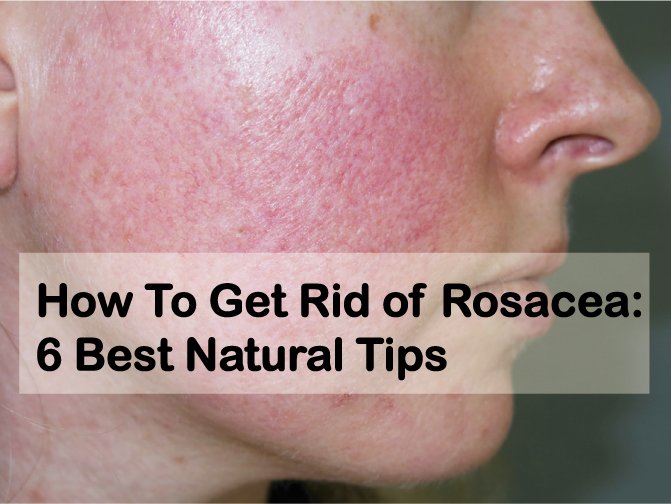 Reasons and triggers of Rosacea
Are you desperately waiting to know more about the solution of how to get rid of rosacea? Wait, dear. Before that, you should learn the main causes that can lead you to this chronic skin disease. Here, we have combined those possible reasons for you to know.
There are some definite foods and drinks that quickly drive a person to this disease. If someone is over habituated with drinking much alcohol, he/she can face it. Again, Spicy foods, different kinds of hot drinks can equally drag any one to aggravate this problem.
If someone is emotionally disturbed and frustrated for a decent amount of time, this can be another trigger of it.
Abnormalities in blood vessels:
This is another key factor that contributes a great role for rosacea. Consistent flushing and redness including noticeable blood vessels are the main symptoms to this chronic skin issue.
In some cases, excessive sunlight might be the possible damaging factor of skin degeneration.
If this is somehow found in your digestive system, it can probably lead you to connect with rosacea. It has tendency to ignite the production bradykinin production that can seriously lead to happen to increased blood vessels.
There are other probable options that can trigger you to face rosacea. Bad weather such as gusty winds, humidity, too much hot or cold weather are equally responsible to trigger it.
Moreover, taking hot bathes, excessive caffeine, usage of different skin products incorporated with harmful chemicals also play a vital role to cause this skin issue.
Some side effects of particular medication also can leave a great effect on sensitive skin.
How To Get Rid of Rosacea
As I have mentioned before, this skin inflammatory disease has no stable solution, some possible steps can reduce your pain for long time. Earlier, I have discussed about the triggers and possible causes of rosacea. Already, you have gathered good knowledge about that. Below I am about to tell you how to treat rosacea.
1. Manage your emotional stress:
Are you struggling with the stress related issues for long time? Sometimes, additional stresses, anxieties, depressions can seriously trigger you to the rosacea fact.
To combat with those, you need to practice relaxation process such as yoga, meditation, deep breathing etc. These suitable practicescan relieve you from unwanted mental burden of several anxieties.
2. Avoid food triggers:
Avoiding specific foods will help you on how to get rid of rosacea. Foods included with the possible triggering elements of rosacea should be avoided boldly. Increasing amount of Beer, chocolate, vanilla, red wine, vodka including some regular drinks such as coffee, tea are must to have excluded from your food habits.
3. Use suitable skin product:
Often we use different kinds of skin product without knowing its suitable application on our skin. That's another possible reason to drive a step ahead to this annoying skin problem.
Products which are not burning your sensitive skin are highly beneficial for you. If it somehow causes itchiness or redness on some spaces of your body, you should immediately change them.
Of course, they can contain harmful alcohols or skin irritating elements for sure. Literally, you must use manufactures which are specially designed for your skin.
4. Use sunscreen regularly:
Using sunscreen is one of the treatments for rosacea on face. People carrying the rosacea symptoms should be careful about UV light. That's why wearing sunscreen is the best way to protect your sensitive skin against serious flare-ups.
The best way to protect your skin and also having vitamin D is to use sunscreen as much as possible. Make sure, this skin product is not containing toxic elements. And this will help on how to get rid of rosacea.
5. Natural treatment:
This process might not cure you completely but has maximum possibility to get you relief from the anguish. There are some natural remedies to treat rosacea naturally and I am going to share with you to use in rosacea.
It contains a variety of anti-inflammatory elements. These ingredients might help you decrease the redness and excessive inflammation to the great extent.
To get the best result, you need to prepare green tea and turn it cool on the refrigerator for around 45 minutes. Afterwards, use a clean and soft piece of cloth to soak it.
Next, you can apply this on the affected areas of your skin. Hopefully, regular usage will work better.
This is one of the most skin healing home cure for rosacea remedy to use. You can extract the gel from it and effectively use it on your painful area. Better if you wash it with cold water.
There are other effective natural remedies to apply for rosacea. Honey, cucumber, Essential oil, Oatmeal mask etc. make a good result on skin disease.
6. Different treatments:
Based on your state of the rosacea, you can use laser or OTC treatments. Dermatologists use this therapy to reduce blood vessels if necessary. But there are some side effects too. That's why you should consult with a specialist doctor who has most experience in this field.
Conclusion:
At the final note, I want you not to take it lightly as it can lead you to feel uneasy in both physically and mentally. That's why you need to know how to get rid of rosacea. I hope and believe that these essential tips will surely help you.
See Also: Eczema On Eyelids : Causes, Symptoms & Treatments.